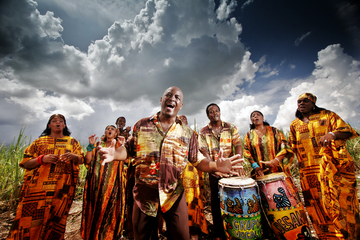 It's always a treat when Cuban musicians and artists are able to cut through all the political red-tape and come to the U.S. so that we can experience a taste of their vibrant and creative culture. The latest to cross the Caribbean will be the Creole Choir of Cuba. The ten singers from Camagüey and have been together since 1994 during a 'Special Period' in Cuba. As their bio states:
It was at this difficult time that members of the Professional Choir of Camagüey who were descendents of Haitians, decided to re-forge the resistance songs and laments of their forebears. Lead by their Choir Director Emilia Díaz Chávez, Grupo Vocal Desandann, as they are called in Cuba, revived the songs of their ancestors for modern times. Desandann literally means 'descendents' and as the choir say: "For us music is like food, it feeds the spirit and is a major inspiration for everyday life"
The group recently released a new record
Tande-La
. The gorgeous and intense vibrancy of their vocal deliveries is a far cry from the typical choir.
Dates:
09.21 - Chicago, IL: Mayne Stage
09.22 - Chicago, IL: Preston Bradley Hall
09.23 - Bloomington, IN: Lotus Music Festival
09.24 - Bloomington, IN: Lotus Music Festival
09.27 - Columbus, OH: Lincoln Theater
10.01 - Somerville, MA: Somerville Theater
10.02 - New York, NY: Symphony Space
10.05 – 10.07 – Hanover, PA: Hopkins Center/Dartmouth College
10.09 - Union, NJ: Enlow Hall/Kean University
10.11 - 10.12 – Amherst, MA: Fine Arts Center/University of Massachusetts
10.14 – Portland, ME: Merrill Auditorium
10.15 - New Bedford, MA: Zeiterion Performing Arts Center
10.16 – Philadelphia, PA: Painted Bride Art Center
10.19 – Bethesda, MD: The Music Center at Strathmore
10.20 – Hampton, VA: The American Theatre
10.22 - Santa Cruz, CA: Kuumbwa Jazz Society
10.25 – 10.26 - Chico, CA: Laxson Auditorium/Cal State Chico
10.27 - Arcata, CA: Humboldt State University
10.29 - Scottsdale, AZ: Scottsdale Center for the Performing Arts
11.01 - San Diego, CA: Mandeville Auditorium
11.02 - Santa Barbara, CA: Campbell Hall
11.03 - San Francisco, CA: War Memorial & Performing Arts Center
11.05 - Riverside, CA: UC Riverside Fine Arts