Text and photos by Banning Eyre
Afropop fans, prepare yourselves to hear a great deal about the Nightingale of the North, the reigning diva of Timbuktu, Mali, the inimitable Khaira Arby. We have been admiring Khaira's local cassette recordings for a good fifteen years. Her voice is as strong, sure and distinctive as any the northern deserts of Mali have produced, and we've long wondered why no producer had made a representative CD and launched Khaira's international career. We first met Khaira in 2000 when traveling in Mali with Bonnie Raitt, Habib Koite, and a band of Afropop listeners. We chanced upon her concert in the public square in Timbuktu, and became instant devotees. At the 2003 Festival in the Desert in Essakane, we filmed and recorded Khaira with her band for the radio program and for the film,
The Tent Sessions
. Again the question arose: Why is noone working to bring this phenomenal talent to the world?
Well, the long wait is over. Kudos to Khaira's US representative Chris Nolan, who arranged Khaira's first US tour. (
Click here for dates.
) Her first international release,
Timbuktu Tarab
, hits the streets this week. And the tour is underway. Khaira played her New York debut at The Shrine in Harlem on Friday, August 13. We caught her the next night at Zebulon in Brooklyn, and even for true believers like Sean Barlow and myself, the show was a revelation.
Khaira is traveling with a young band that includes family members. The grand lady of the Timbuktu music scene sure knows how to pick talent. This band absolutely rocks. They are as tight and fluid as any of the African groups to play the big stages of New York City this summer—and given how awesome that lineup has been, this is no faint praise! The band is two guitars, bass, traditional lute, calabash, trap drums, and two backing singers. They play Sonrai songs reminiscent of the late Ali Farka Toure, Khaira's dear friend and "cousin," as well as Tuareg, Fulani, and other folkloric genres. The songs talk about great Malians, about the empowerment of women, and the need to wipe out female genital mutilation (excision). Grooves can be dark and sinuous, or light and buoyant, but they are always rendered with flawless confidence. These players, even the youngest, play like seasoned pros, and they deploy masterful dynamics, never overpowering one another, or—heaven forbid—their illustrious leading lady.
The band's exceptionally young and talented lead guitarist has serious chops--he's clearly listened to the rock-schooled Vieux Farka Toure--and a delightful stage manner. Khaira called him forth for long, florid, and totally rocking solos, and then silenced him with a wave of her hand to begin singing again. Their interaction was charming, like a proud, firm mother and her precocious, respectful son.
As the set went on, people began to dance. The club was packed, so by the end of her 90-mintue opening set, people were dancing right up against the band. Khaira sang in front of the stage, rather than on it, dancing with patrons and receiving their praise, kisses, and of course, money without missing a beat. The second set was even more unglued, with patrons joining the band onstage, everyone crushed together in an ecstatic, collective party, and Khaira filling the room with her steely, piercing voice. I can't say I have seen a more exciting performance all year. If you are in New York and missed these shows, you have one more chance. Khaira plays Joe's Pub on September 29. If you are elsewhere, check the itinerary and do what you have to do. This is going to be one of the headlining African acts of coming years once word gets out how great it is. Get your chance now to experience Khaira in an intimate setting.
On the afternoon of the Zebulon show, Afropop visited Khaira and her band at the house where they are staying in Harlem in between shows. We filmed an interview and a private performance in the garden. Stay tuned to afropop.org for these and other gems from an African legend, at last getting her due.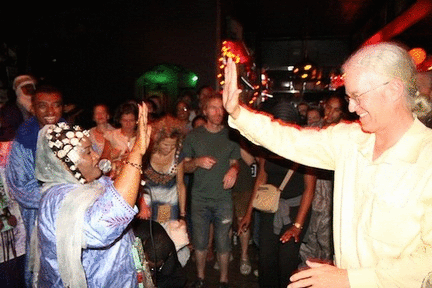 The author dances in celebration with Khaira (photo mashup by Wills Glasspiegel)